Mares Viper Pro Review***UPDATED
Mares Viper Pro Review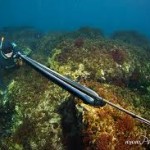 We all love getting new things, but when it comes to getting new speargun's, to tell you the truth, I get nervous. I have settled into a very functional gun right know that I couldn't be happier with, the Mares Phantom. I have used the Phantom since its inception some five years ago. I have two guns in every size and finding a better gun would mean replacement, and that would be expensive. Prior to my mares Phantom run I used Sporasub Viper guns for at least 15 years in both competition and commercial fishing, so I knew the Vipers intimately. I won many spearfishing tournaments with a Viper. They were one of the greatest shooting guns I have ever used but they came with several manufacturing flaws and assembly issues. Over time I learned to overcome and fix most of their problems. Unfortunately, they went out of production when Mares sold Sporasub off. Aside from some design flaws, they were the flattest and best shooting gun I have ever used. That's a bold statement considering I have used every production gun made and many custom guns at one time or another. So, opening this box was as much a de-nerving experience as it was exciting. The first thing I noticed was this gun is based on the late great Sporasub viper design, light and well-balanced but the known design flaws on the Sporasub appear fixed.  I'll take the statement a step further and say fixed and improved significantly! The more I looked at this gun the better it gets. Mares has actually taken the legendary Sporasub viper and improved all aspects of it. Here are some of the details of Mares new Viper Pro gun.
First thing I noticed was the trigger. As a rifle shooter I am impressed. This gun is actually designed with an adjustable trigger pull. That means you can actually make it a hard pull or a hair-trigger depending on your preference. They also made the trigger with an adjustable length of pull. You can move the trigger forward or back depending on what's most comfortable for you without affecting the weight of pull. This is something until now, you would only find on fine rifles. It is obvious they expect this gun to be a tact driver. There are several other notable things in this area of the gun. The sear, the line holder and the top of the trigger mechanism is stainless steel. This all adds up to a heavy-duty trigger mechanism that can take  punishment and wear well over time and is safe from having misfires.
I have always taken the safety's out of my guns and consider them only safe when unloaded. I was never confident this was the safest practice, but the alternative was knocking the safety on by accident or leaving it on and missing a shot. This is not an option in a competition setting. On this gun there are two notable design characteristics that make the safety useable and reliable. 1. When the safety is on it lays in the way of your trigger finger. In other words if you tried to take a shot with the safety on, you would know it before you attempted to pull the trigger and would have time to turn it off. When the safety is off in the fire position it becomes part of the groove your finger rests in on the trigger side. 2. When the safety is on or off it stays in that positioned and can't be accidentally turned. Sounds simple but most guns don't have this feature. The euro style handle is ergonomic and fits in my hand comfortably.
The barrel is nothing less than impressive. It is designed for function and strength. It is an aluminum barrel with a built-in rail on top. This does two things, 1. This rail Adds strength so there is no flex allowing increased accuracy. 2. It is a continuous track for the shaft to follow out of the gun allowing increased accuracy. O.K ,so there are other guns with this same barrel design but check this out, there is also an aluminum track on the bottom of the gun. This serves two purposes. 1. Increased strength and decreased flex causing increased accuracy. 2. It serves as a place for the shooting line coming from the reel to lie in, creating a stream line gun that won't get hung-up.
That brings me to the reel. First let me say it is the same as the Spiro reel and if you have used one you know it is a great design. However, it is positioned vertically and I have always been partial to horizontal reels. Having said that, the way this vertical reel is designed and position, I may become a fan. It is positioned just ahead of the trigger guard where it can be easily reached allowing adjustment to the reel tension lever with one finger. The line comes off the top and drops right into the line channel on the bottom of the barrel. It is designed specifically for the Viper and plenty of thought went into its design.
The muzzle can be converted from open to closed. It is designed for 2 16mm bands which I know will make all you double band guys happy. The design is simple and functional. The line  locks in on top, left or right lateral to the shaft  and bellow it on the opposite side. The grooves are designed so they are fast when reloading and cut deep enough to hold the shaft in place and secure by the shooting line. It is ambidextrous for all you south paws. It is sturdy and looks tough enough to stand the test of time.
The bands are made with dynema wishbones. They made them with a loop tied into each side of the rubber so the dynema can be changed when it wears on the areas it is in contact with the shaft. That's a real custom touch that you normally would have to do on your own.
I have always had a problem with the euro shafts. They were thin, poorly notched shafts, with small floppers and made from plain stainless steel. This shaft is like a custom shaft, it is a pinned 7mm hardened stainless shaft with a solid 3" flopper.
If this gun is half as good in the water as it is on land, I will need to get 2 in every size. Congrats to Mares for designing what appears to be the new legend.
by David Hochman
UPDATE:
As of today, September  4, 2013, I can now confidently conclude my experience with the 120cm Viper Pro and how it functions while spearfishing. I have been using the gun for the past several months.  It was a slow transition for me, to make the move from my "go to gun", the Mares Phantom ,but the Viper quickly proved itself  superior. If you have been on my boat in the last 6 weeks you  know that I only hunt/use  the Viper Pro.  I have to date shot over 100 fish, both big and small. Many of the fish shot where stripers in 30 to 50 pound class.  Also, a lot of smaller fish at long range like scup and black sea bass.
First , the gun has performed flawlessly. No breaks, flooding, no band hang-ups,  cracks etc. As, far as handling this gun is as light as any carbon gun I have ever used. It is neutral to light in the water column and floats as it should when the shaft is out. It is weighted perfectly underwater.  This gun handles and shoots like a dream. It truly shoots like a laser. Not high , not low but right where you point it.
The open muzzle is designed perfectly. The shooting line strings quickly in its designated grooves and holds the shaft down. It never once came off on me all summer in the water or in transport.
The trigger is great. As I mentioned in the precious article, it can be adjusted in several ways including the amount of pull you prefer. Nice feature!
The line release is stainless steel  and positioned well. It does what it is supposed to do most of the time. On the particular gun I have it would on occasion require me to pull the trigger when putting the shaft in the gun, and at the same time manually pull the line release back into its locked position. If this is not done the shaft would not seat to the sear and can't  be loaded. I have seen this on many other guns and once you know what you have to do it's no big deal.
The reel is good.  There is a pin at the back of the reel just in front of the trigger guard that holds the line up tight into the line track. In theory, this is great but in practice not so good. The line is impossible to level wind when the pin is used. The good news is you don't need it and instead just use the line guide that comes on the front of the reel…Problem solved!  Bellow are pictures that will explain how too and how not to rig the line on your reel.
In conclusion, after a 100 + fish, this gun has proved itself to me in every way. Only thing left to do is get 2 guns in every size.